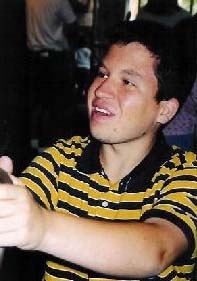 2002 - 2003 was Micah's last year of high school at Berkley High School. Like all students he's looking forward to graduation. However, he's loved his senior year. He's done well in classes, has many friends, is liked by his teachers. Micah has made an impression on students and teachers alike as a hard worker, a person who cares about others, someone passionately interested in politics.
Micah, his parents, and teachers have blazed new trails in the Berkley Public Schools. He's been the first student with a moderate cognitive disability to be fully included starting in elementary school all the way through high school. Now, he and his parents are getting lots of help to blaze newer trails. Micah is one of a growing number of students with cognitive disabilities who plans to go to college upon his graduation. In this clip, we interviewed Micah at his track meet and he talks about the planning for college that is in process. Micah's mother, Janice, often writes about their experiences supporting Micah. Click HERE and read about their experiences in working towards college for Micah.
Micah has had challenges and has learned much about strategies that help him work around the limitations of his disability. Micah still cannot read print. However, Micah loves politics and wants to keep up with current events. Daily he checks his email and reads news updates on the internet, all with the help of a computer program that speaks the text for him. He also has learned, with support, how to develop and present information using powerpoint. Click HERE to see a movie of a powerpoint that Micah developed about his high school career.
Micah has given a lot of himself over the years. In this clip, Mrs. Schultz, his current events teacher, discusses the positive impact that Micah had on other students in his class. She also describes curriculum and instructional adaptations that helped Micah be successful and participate fully in the class. Micah's ceramics teacher talks with Micah about his project and discusses having Micah in class. Finally, Sharon Berke, Micah's special education teacher talks about how much she has learned from Micah.
Micah has participated on the cross-country track team in high school. This has been a great challenge for him but he's done well, learning first to run and mile and now up to two miles. Watch in this clip as he runs a 200 meter race. Note how the crowd cheers for this athlete they know is giving his all, providing a model for others. Janice, his mother, tells in this story how the coach has been amazingly supportive and made a huge difference in Micah's life. Micah's coach talked about having Micah on his team.
Micah has increasingly been involved in leadership activities. For several years in has participated in Detroit Summer, a youth program aimed at linking college students with youth who are engaged in community building activities in Detroit. He is now on the Board of Kids As Self Advocates, an organization aimed at building the leadership skills of students with disabilities. And he has been involved in numerous speaking activities. Click HERE for a picture of Micah and teacher education students at Wayne State University where Micah spoke in several classes.
Micah has set an example of possibilities for many students, with and without disabilities, at Berkley High School.
Michael Peterson, 2004
---